EUROPEAN COUNCIL FOR RURAL LAW (CEDR) meeting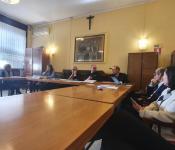 On 7th and 8th February 2020, the EUROPEAN COUNCIL FOR RURAL LAW (CEDR) meeting, attended by delegates - representatives of individual CEDR members, was held at the Faculty of Law of the University of La Sapienza in Rome.
On 7th February, the respective members attended the CEDR III Mediterrenean Regional Forum as well as the CEDR Board of Management Meeting held on 8th February.
Slovakia was represented by associate professor JUDr. Lucia Palšová, PhD.,
In addition to the financial issues relating to the management of CEDR for 2019, scientific issues related to European agrarian law, publication activity of the CEDR members in "Journal CEDR", as well as internal and external issues, and issues related to individual national associations were addressed at the meeting.
Associate professor Palšová informed CEDR representatives about the activities of  the Slovak "Association of Agrarian and Environmental Lawyers" that took place in 2019 as well as the forthcoming new activities for 2020. In her presentation she also informed participants of the meeting about the project "Effectiveness of Common Agricultural Policy Implementation in Slovakia" CAPE ", 611792-EPP-1-2019-1-SK-EPPJMO-SUPPA, co-funded by the Erasmus+ Jean Monnet programme of the European Union.